Wednesday, October 14, 2009
things you never thought about
and if you did think about them, it was probably only in passing.
Here's a cute and simple animated gif that shows how a standard sewing machine makes the stitches.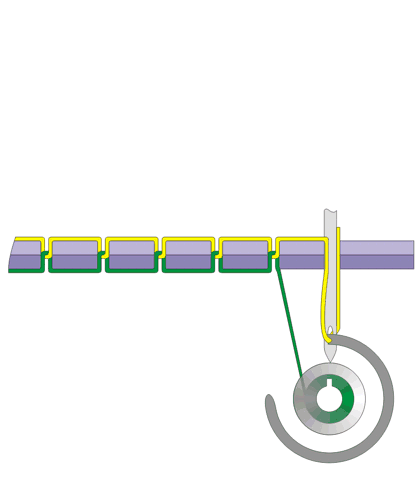 via
swiss-miss
posted by elaine, 3:17 pm |
link
|
3 comments
|


Thursday, October 08, 2009
Hot and Not
I'm joining in with Melbourne's OG crafter
Loobylu
's new meme.
Hot
Listening to the Sookie Stackhouse Audiobooks whilst knitting.
Suffering withdrawls after the end of Season 2 of TrueBlood, I got myself a copy of the Audiobooks. Audiobooks are new to me and I'm in love.


Spring. I love winter food but Melbourne winters are a depressingly grey and dreary time, the people stay in and are surlier but come spring and a touch of blue in the sky and my much loved city stirs into a much more outwardly focussed place. People go out, they smile, they talk to strangers. There is a lightness to Melbourne in the warmer weather.


Lola. Always. She and I are family.


Making, creating, fingers busy and watching something coming into being.


+ Not
The increasingly common usage of verbs made from nouns. Gifted is top of my list. There is a perfectly excellent word: GAVE. A gift is a present, a noun. One wouldn't say I appled you when handing over a piece of fruit so why do it with a gift? Down the list are others such as tasked. Grrrr.


Looking for a new home. I'm looking forward to moving and having more space - somewhere I can leave my sewing table out, somewhere I can hang my stuff on the walls and use my kitchenware. It's the process - attending open for inspections (without a car), schmoozing the estate agent, the dearth of good rental properties etc. etc. NOT HOT.


Racism and sexism. The Hey Hey debacle, the xenophobia I hear every day at my dayjob ("They are aren't Australian, they're muslim." yes, I hear this. headdesk), the way we are treated as women in what is, at least chronologically, the 21st century. I swear I feel like we're in the 1950's so much of the time. I thought I had traditional values; I want a family, I'd like to stay home with my children until they are old enough to go to school. In my life, I haven't had the choice to do this and yet, as a 35 year old woman, I am judged on not having done this almost every day. At the same time, I want other women to have the right to choose what is best for them. I want men to have the option of staying home with the kids if that is what works for his relationship just as I want women to not have to define themselves as breeding machines first. Sadly, I can't see this changing - it's getting worse not better.





Labels: hot+not
posted by elaine, 9:59 am |
link
|
7 comments
|


Thursday, October 01, 2009
Oh look!
look at that! it's one of the new items available for sale in
my etsy store.
currently there are three different designs (with more to come) and you can choose whether you want them in red, green or black.
I wear a pair myself, there's something that is no
now
about crochet, don't you think? In that granny chic way.
Labels: davy jones' overlocker, etsy items
posted by elaine, 2:25 pm |
link
|
2 comments
|